Over the past week, I've continued to focus on building my prototype. I think it's been a very productive week.
Highlights
Here are some screenshots of where the app stands this week.
Account & Sign In
You can now visit obtract.com to create an account. (Though, you won't be able to do anything without the app.) If you do have the app, you can now sign in to the service.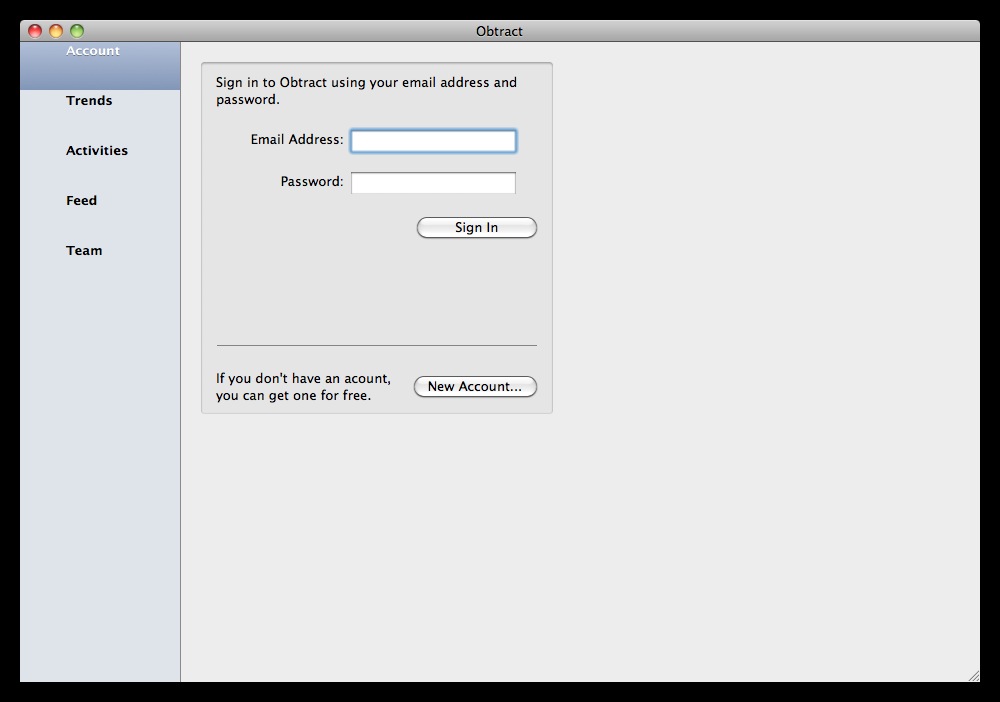 Profile
Once you sign in, the screen changes to a Profile screen that shows your name, email address, and phone number. The same screen will later be used to show your teammates' profiles so that you can get in touch with them.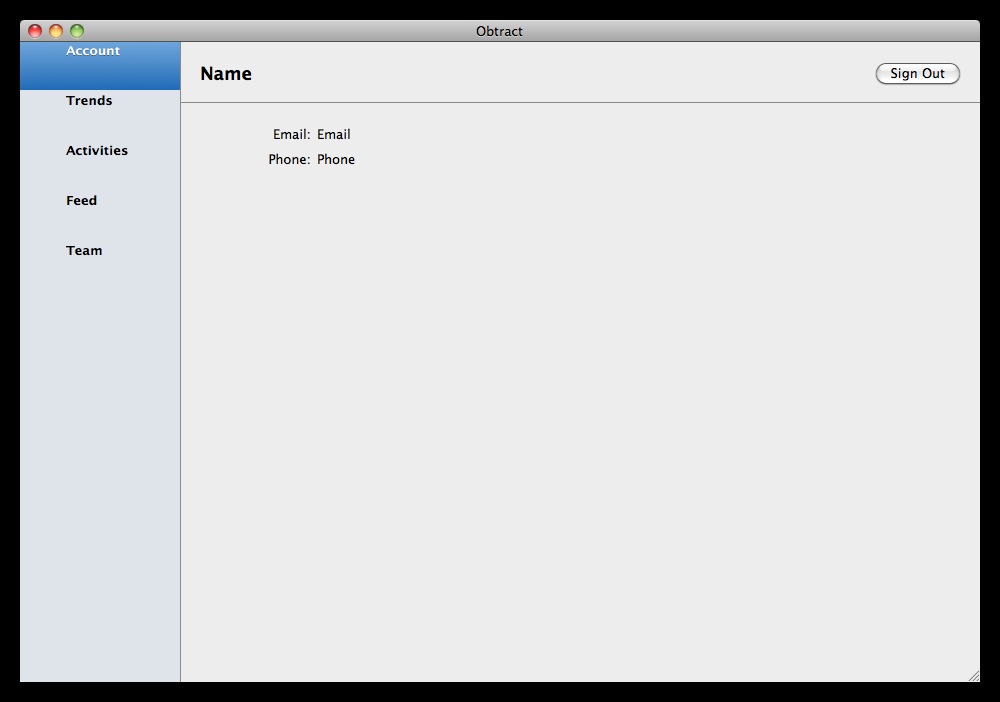 Trends
The trends screen shows your score over the past hour. It's now been updated so that it shows your teammates' scores, too. In this picture, my trendline is in blue, and my teammate NotEric (who does the opposite of what I do) is in green. A milestone/message/annotation/tweet/status update ("Working on something new!") is also visible when you mouse over.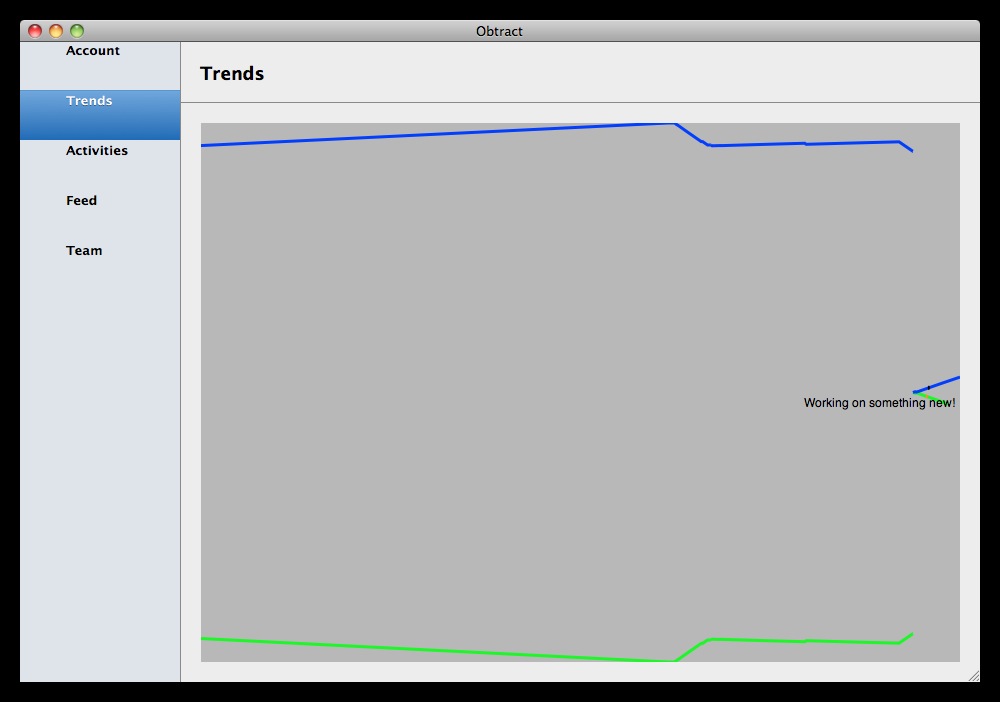 Activities
New this week is the activities view, which shows you a summary of the activities you've been doing. For example, I've been working in Xcode for 944 minutes. Apps and websites are shown in the same list.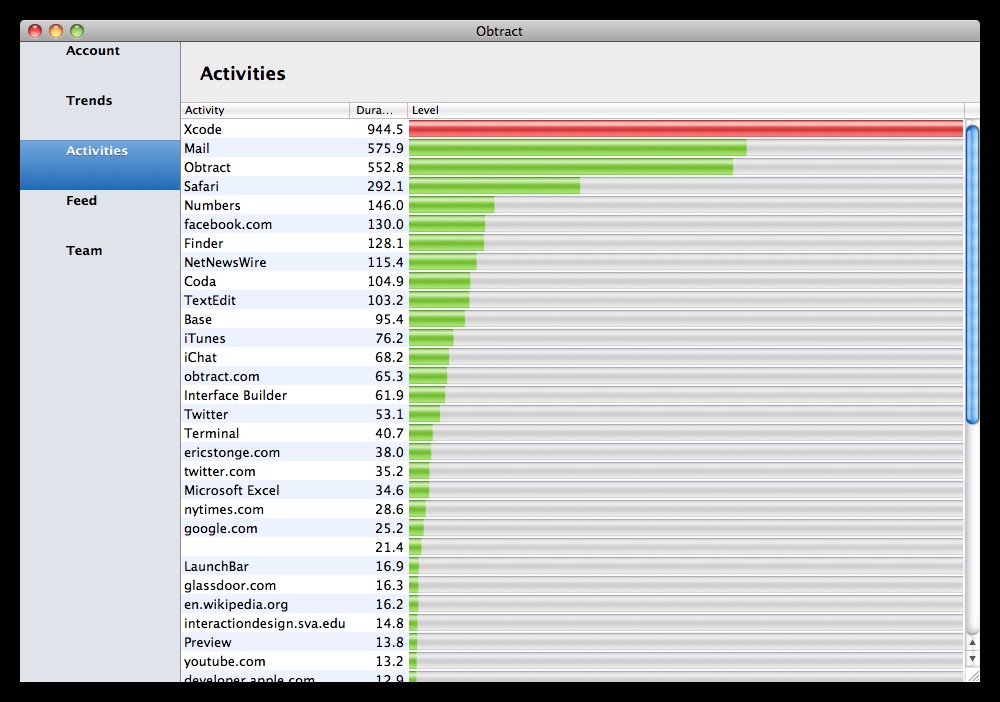 Intervention
The intervention window has also been updated, so now it appropriately appears and disappears when you switch between distracting and productive activities.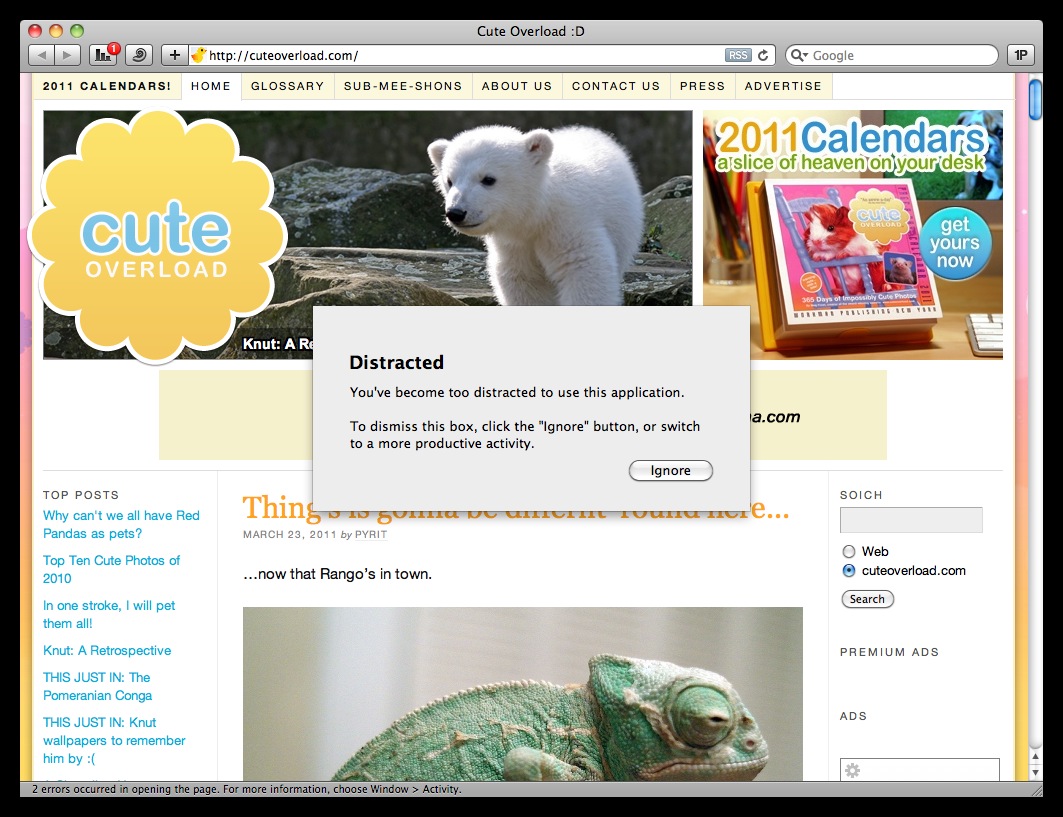 Behind the Scenes
Some of the additional things I've been working are not visible in screenshots. For instance:
Every piece of data (users, activities, messages, and teams) now syncs to obtract.com if you're signed in, so that your teammates can also access the data.
The system builds a blacklist of distracting websites and applications based on your votes. Basically, every time you mark an activity as "distracting," it adds your vote to the tally and uses that to determine how the activity should be classified by default. A new blacklist is downloaded daily. (Yes, this actually works.)
Next Up
I think the prototype is starting to look pretty good. Maybe even almost "feature complete." I'm approaching the point where I need to slow down my work on the prototype and move on to some of my other deliverables. And also do a prettier visual design for the app.
In my current schedule, I've allowed about three weeks for development. After that, I'd like to work on the visual design and get in a few rounds of user testing. Before I switch gears, here's what I need to:
Team management, so that you can (at least) add and approve new members to your team.
Team profiles, so that you can see your teammates' names, email addresses, and phone numbers.
Improved interventions, so that they're harder to ignore and actually steer you back to work.
A feed showing your team's most recent activities and milestones.
User icons/avatars, to give the app a little more of your own team's personality.
As part of this plan, I think that I need to scale back a few other items:
Focus on distraction interventions rather than breaks. Breaks work to pause the system, which I think is fine for the time being. I do not plan to have break interventions ready for the final prototype.
Work on a single visualization for feeds, trends, and activities. It will not be customizable for the final prototype.